ABOUT US
Here he is, Dan, your friendly proprietor of The Wagical Place. He holds a B.S. in Aerospace Engineering from the University of Maryland and a M.S. in Mechanical Engineering from Drexel University in Philadelphia. He pretty much maintains this web site. Even though he is the author of numerous technical reports, journal articles, and conference papers, any fan of this site knows he can't spell or get a proper sentence together. Yet he can speak two languages(English and German). Born in Kentucky, his father was career military and his mother was German. He spent 15 years growing up in Germany.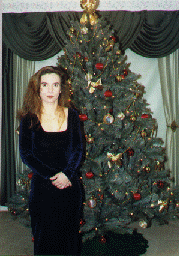 Here is your Proprietress, Patrizia. Trained in bookkeeping. More then likely she is the one preparing your orders. She was born in Sydney, Australia to a German mother and an Italian father. After the death of her father the family moved back to Germany where she grew up and went to school. You may recognize the picture, as the face from it is part of our logo. Patrizia can speak three languages (English, German, and Italian). So any non-English speakers wishing to try out her skills may. The picture at right was taken early December 1997.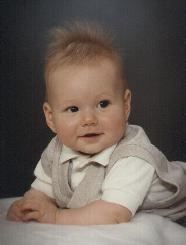 Samuel Ray Scheffler the smallest proprietor of The Wagical Place and future Magic Pro Tour Champion. His current statagies include crying his opponents into submission. Samuel was born on October 19, 1998 at 12:51 AM. He weighted in at 8 lbs 10 ozs. This picture, taken in June 1999, was Samuel's Father Day gift to his Dada (Click image for enlargement).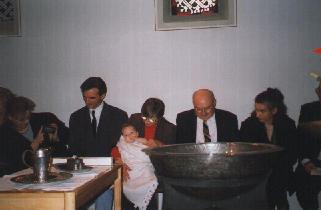 As many of you know, we closed shop for about 2 weeks at the end of March into April 1999 to go to Germany to have Samuel's Baptism in the same church his parents were married. The image at right shows Samuel, future Magic (or is that Wagic) Pro Tour Champion, at his Baptism. He is being held by his Grandmother (Oma in German) with his Grandfather (Opa) sitting on the right. (Click image for enlargement).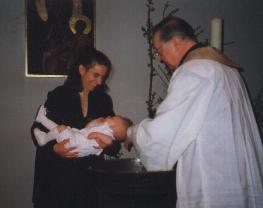 Here the future Pro Tour Champion is being Baptised. Like a the champ he is, he did not cry. "Hey what was that noise, did someone fart!" (Click picture for enlargement).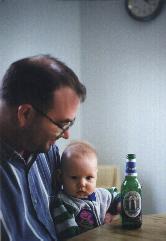 Samuel wondering, what is in Dada's Botty. "What is this, this stuff is not white and where is the nipple? Why does Dada keep saying Nector of the Gods?" (Click for enlargement).
Samuel with his Mama's best friend at his Baptism celebration. "Ahem, she has boobies just like Mama. I wonder if she will let me hang on one for a while? I am getting thirsty." (Click picture for enlargement).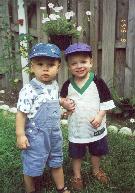 Samuel the reason we started our business at almost 2 years with his best friend Brandon. Samuel is at left and Brandon is at right.
This page was last updated: Fri Feb 01 18:07:27 EST 2002